Students with disabilities are among those who were most affected by COVID-19 lockdowns in Europe and the world. The adaptation process that all students had to follow was even more difficult for those students, in many cases deprived of the crucial contact with their peers and of the pedagogical support they received before.
The closure of schools deprived students with disabilities of contact with their peers and, unfortunately, of the pedagogical support they enjoyed before.
This situation has weighed on the children as well as on their families, who have often felt abandoned.
Starting from this experience, some relevant European organizations have joined in a project to provide all Europe within two years a valid methodology and IT support to help those forced to distance learning despite themselves. Therefore, people with disabilities or special needs, their families, support teachers of all levels, therapists, and operators are the project's stakeholders.
The European SUCCESS project is based on six official partners and six associated ones from seven EU countries in total. Poznan Supercomputing and Networking Center (PSNC), the Polish IT infrastructure and research center for science, is the coordinator of the project and the main technological partner. Casa Santa Rosa, an Italian rehabilitation center based at Rome and part of an internationally widespread charitable organization, covers the liaison role among the project's activities and people with disabilities, their families, and caregivers.
The University of Rome La Sapienza (Italy), the National Technological University of Athens (Greece), the Instituto Politecnico do Porto (Portugal), and the Lithuanian University of Health Sciences (Lithuania) are the academic partners of the project because of their connection with:
Schools, through their institutional role as providers of teacher training,
Caregivers, through their hospitals and medical schools as well as institutional rehabilitation professional training programs in the rehabilitation schools,
The sector of ITC applied to innovation because of their research activities in this field.
Four other universities from Spain joined the project after its start as associated partners: the Universidad Autónoma of Madrid, the University of Granada, the University of Salamanca, the Rey Juan Carlos University, and the University of Cordoba.Finally GEANT (the Netherlands), the pan-European research and education network, also supports the initiative.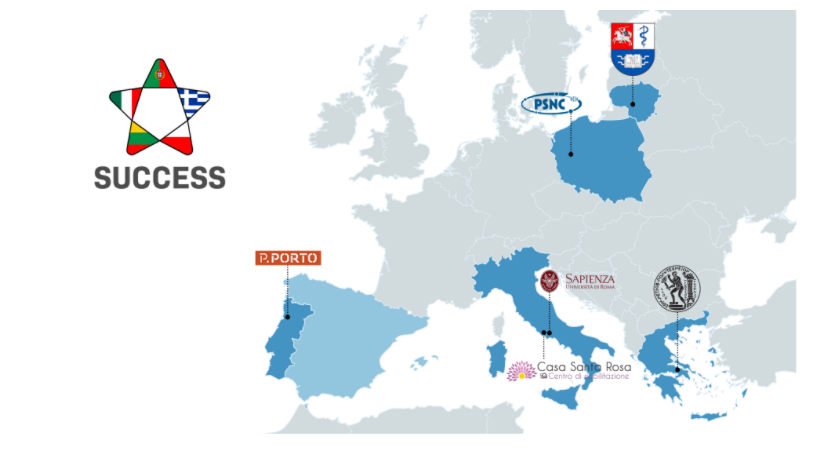 This is a short interview with Michał Zimniewicz, the project coordinator.
– What is the project called and why?
– Since the project is international, the English name is "Supporting success for all – Universal Design Principles in Digital Learning for students with disabilities". So, for friends, say SUCCESS.
– What is the purpose of the project?
– The project promises to create a digital platform tailored to students' needs. And to accompany it with methodological guides created ad hoc.
– When does it start?
– It has already begun: on March 30th, there was the official start, and you can participate by going to the SUCCESS4ALL.EU website
– How long will it last?
– Two years but the resources created will be available to everyone free of charge for at least another three years. I believe that it is an excellent opportunity to create something significant and beneficial for all of us who think together about the well-being of those less fortunate: I am talking about families, therapists, operators, and teachers.
– Why is the project so important?
– SUCCESS wants to help everyone to succeed in their specific way and live their lives quietly. The project brings together all the people who interact with this category of students to build something easy to use and interface with using their language. We will help both those who live in a rich country and those who live in a less fortunate one because disability knows no boundaries or discriminates based on the wallet.
– Who are the recipients of this project?
– It is aimed at centers like ours, where we assist many children with special needs or disabilities. Second, it aims at parents with whom dialogue and collaboration are continuous. Third, it aims at supporting teachers who have the difficult task of integrating children into classes. Fourth, however, it is also addressed to all teachers because helping those with a special need means helping everyone. And finally, it aims at operators and therapists who help both families and teachers. All of them share the same goal: to help those in need.
– How can people participate?
– All interested people can participate by telling us how we can best help them, experiencing what we are going to build, offering their possible willingness to collaborate: go to the website (www.success4all.eu) or write to us at contact@success4all.eu. We will respond in your language.
– But you are only at the beginning; will you succeed?
– I am sure that we will achieve success. All partners are great organizations, and we are all convinced of the goodness of what we do.